2022-02-01 08:45:05
News 2022.01 - BWB four-axle waggon
Bezau – Schwarzenberg and back again!
Bezau, once the terminus of the Bregenzerwaldbahn, is today the main town of the Bregenzerwald and the attractive starting point for a 5 km train ride in sync with the rhythm of the old days. The new wagon from Stängl Modellbahnen now also allows the wagons with the "Wälderbähnle" lettering to be put together to form a continuous set. The specially redesigned interior will allows an undisturbed visit to the toilet!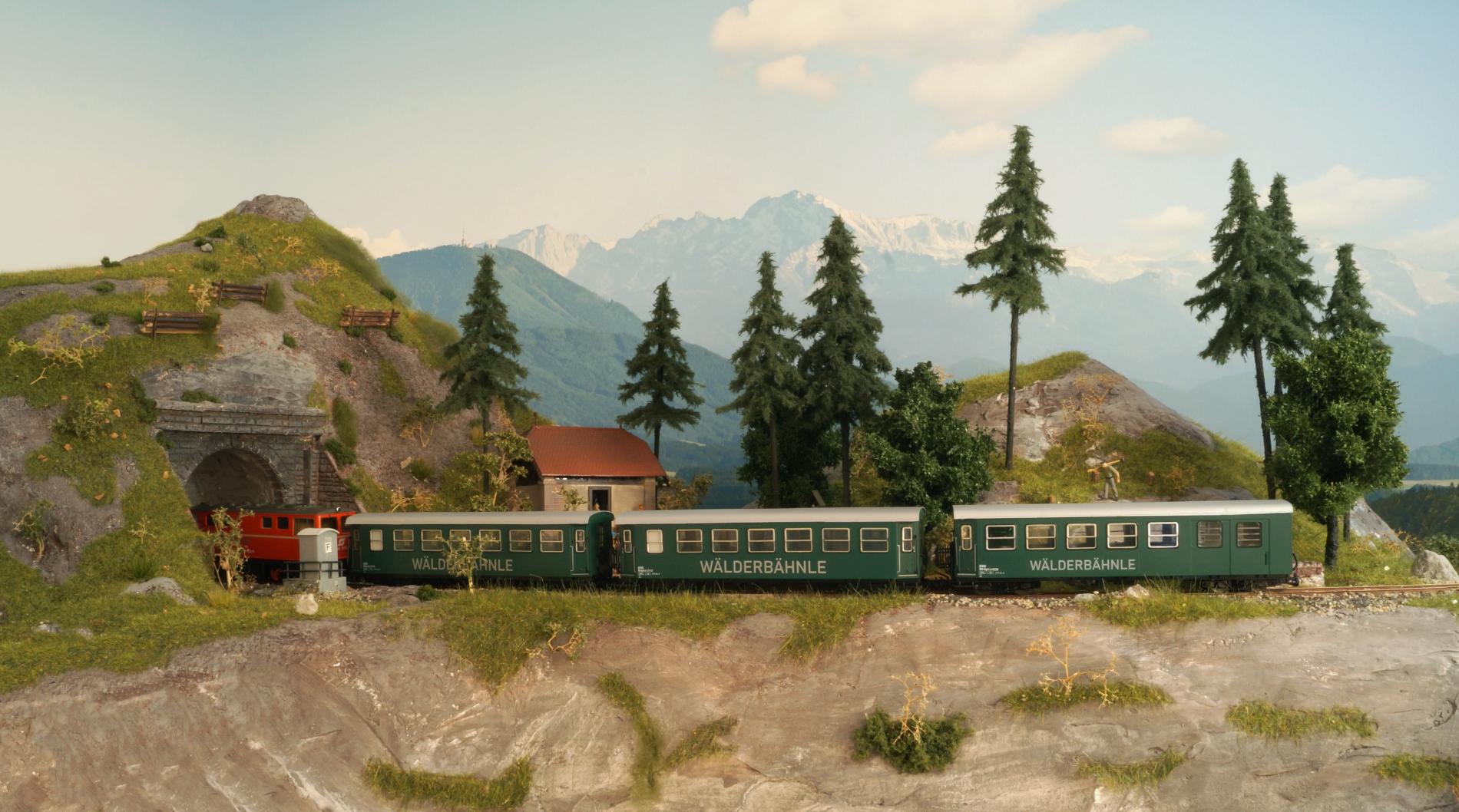 Waelderbaehnle.jpg
The original Bregenzerwaldbahn, locally known as the Wälderbähnle, was an Austrian narrow-gauge railway in Vorarlberg and connected Bregenz on Lake Constance (Bodensee) with Bezau in the Bregenz Forest (Bregenzerwald) from 1902 to 1983 on a 35.3 kilometer stretch. The "Wälderbähnle" museum railway runs from end of May to mid-October on the weekends and some weekdays according to the timetable.
The Bregenzerwaldbahn-Museumsbahn club was founded in order to maintain the narrow-gauge railway and to continue to operate it as a museum railway. However, the original vehicles had all been removed, which is why the operation is mastered with lavishly restored rolling stock from other routes.
The B4ip/s 3113 and 3145 wagons were previously brown Mariazeller wagons from NÖVOG before they were acquired and completely overhauled by the Wälderbähnle. The B4ip/s 3143 and 3153 wagon originate from the first of all Ötscherbär trains and came to BWB in 2015. The BD4ip/s 4230 was part of the same historic train, but made a detour via the Steyrtal until it was reunited with its passenger cars.
The models are based on the popular Stängl wagons and correspond exactly to the current paintwork and lettering of the Wälderbähnle. We have also added exemplary WÄLDERBÄHNLE lettering to cars 3113 and 3143.The prototype vehicles are part of one mixed train pulled by one of the historic diesel locomotives, so combine your models to an attractive train of the idyllic Wälderbähnle too.