2021-08-13 08:59:08
News 2021.08 - New Düsseldorf GT6!
New edition of the first GT6!
The articulated railcars from DÜWAG shaped the appearance of many German cities for decades. The story began in Düsseldorf itself, where the very first GT6 were used on the Düsseldorf Rheinbahn.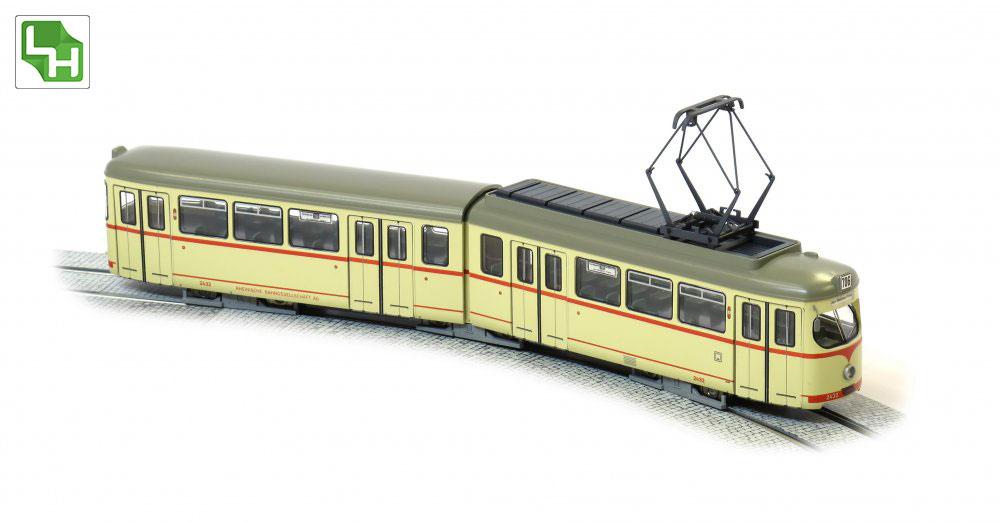 GT6-D32-M
The abbreviation GT6 pragmatically stands for "articulated railcar with 6 axles". From 1956 cars of this later extremely successful design were delivered and used on all routes in Düsseldorf. Already in the 1950s, the first almost one hundred GT6s were converted into GT8s with the help of an additional middle section, but the six-axle vehicles were in use in local transport for further good five decades.
The last Düsseldorf GT6 was not taken out of service until 2003. The story does not end here, of course, many of the historical vehicles have been preserved in various museums in Germany and many vehicles were sold to Poland and Romania, where they were used for a long time.
Models of the Düsseldorf GT6 fleet were last produced in small series in March and are now sold out. Due to the strong demand, we are very pleased to be able to offer you another series of the popular classics. The models are equipped with a NEM652 interface and digitization is easy (Art.Nr: MX600R). Upon request, an upgrade for digitization ex works is also available when ordering (item no .: WE1-DIGITAL)!