2022-03-25 17:19:58
News 2022.03 - Help is coming! - NÖVOG Auxiliary train VT16
Help is coming! - The Auxiliary train is ready!
The long-awaited model of NÖVOG's unique VT16 relief train is finally ready and the long wait has been more than worth it. From the characteristic shutters to the workshop interior, a successful model with an impressive presence.
NÖVOG's auxiliary train in its new design was presented to the public for the first time in 2017. Since then, it has served the crew as a mobile workshop and crew accommodation as well as a tool and material store. Is deployed wherever there are problems along the line. Occasionally it is coupled with some of the typical three-axle ballast wagons for track work, but most of the time it hurries on its own to its place of use.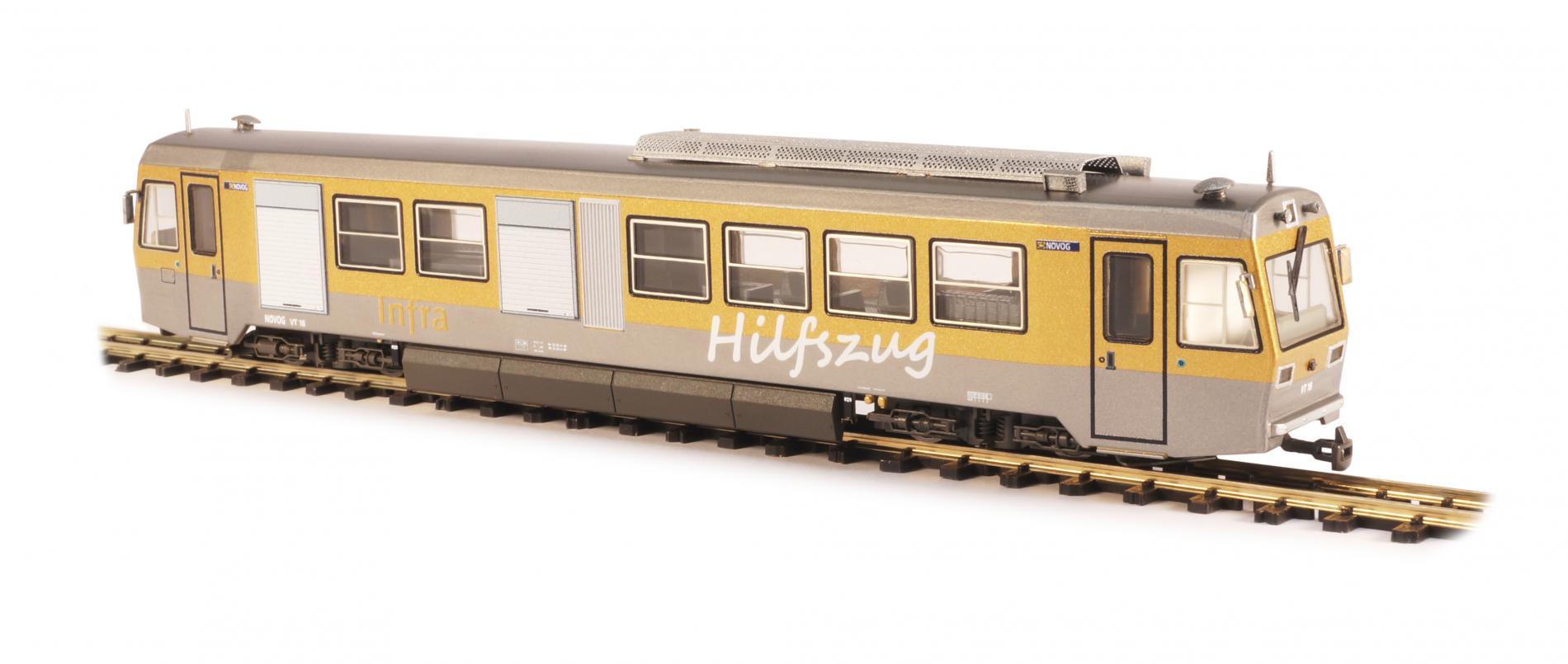 H90-16H
The work wagon was converted from VT16 (ex ÖBB 5090.16, built in 1991) by NÖVOG after 2012 and was initially still in classic ÖBB colours. During the conversion, parts of the original seating were retained, but large areas were cleared and several workbenches, as well as shop cabinets and drawer boxes were installed. The models of the VT16 auxiliary train are delivered with a special interior that reproduce these installations in detail. The four characteristic roller shutters, which distinguish the auxiliary train from classic VT16s, have also been reproduced in an exemplary manner. They are basically just large openings that facilitate the loading and unloading of material, sleepers and spindle jacks.

All models are delivered with a very extensive set of accessory parts. To prevent damage during transport, these parts cannot be pre-assembled at the factory. Please consult the enclosed diagrams for the correct arrangement of the parts. Please pay attention to the correct colour of the parts, as some parts are supplied in several colours.
All 5090 models from 2021 onwards are equipped with a new circuit board with 6-pin NEM651 interface and are prepared for sound installation.

For the sound conversion we recommend a sound decoder with NEM651 interface on cables (Item no. MS490F). There is enough space for the decoder in the specially developed weight block and a usual 11x15 speaker can be glued directly into the opening provided. A corresponding sound project by Alexander Mayer with tuned CV values is available from ZIMO!