2022-02-18 13:02:08
News 2022.02 - Avenio Tram for Bremen
Now the first models of the 34 series are also available!
The Avenio from Siemens is a further development of the short-articulated Combino and is already in service in several European cities. To be able to realise the Avenio Bremen in model form, and thus to expand the in-house Avenio fleet by another member, is a great honour for the small Viennese model railway company HALLING Modelle! Now three different cars in standard colouring are available, just like the "Moin" already introduced at the end of last year!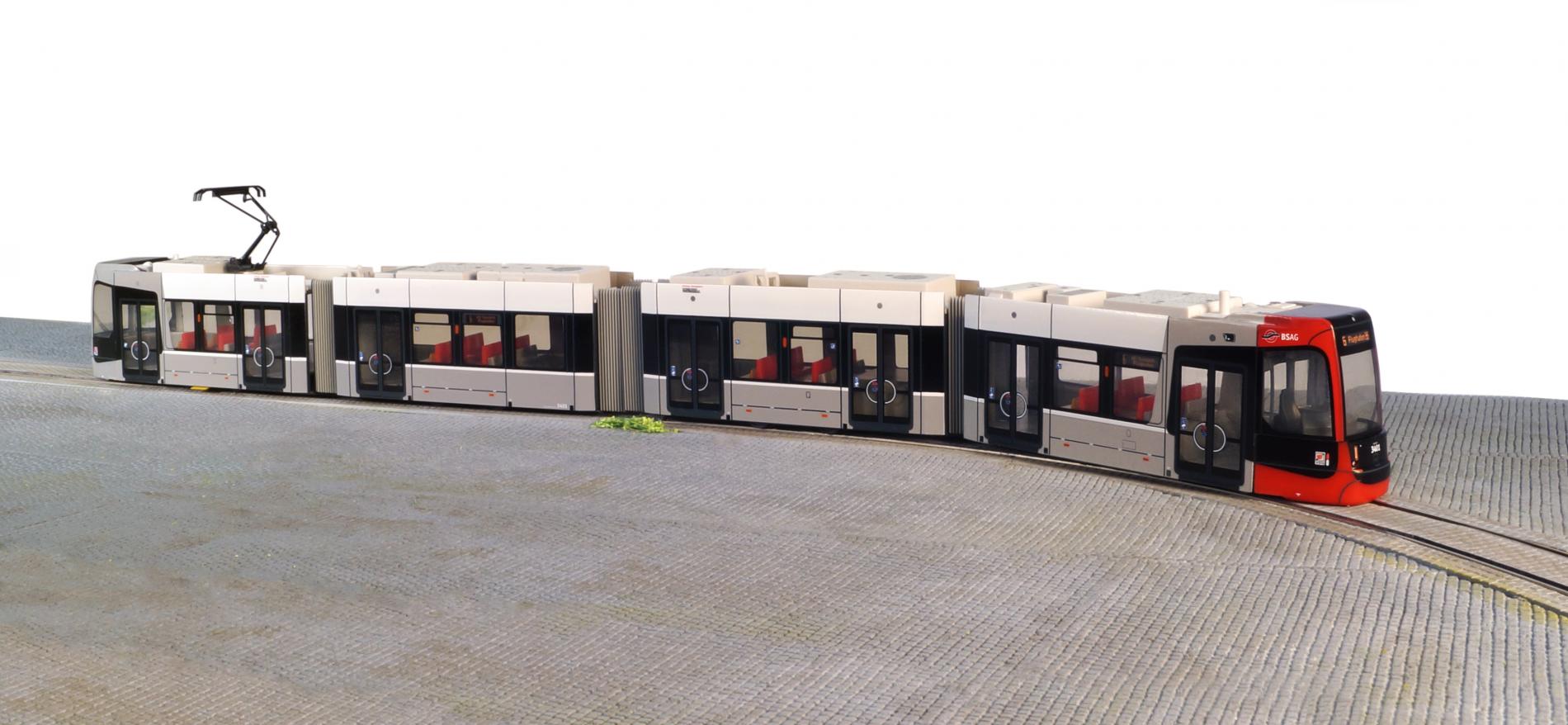 AVN-B01-M
The design of the Avenio family with a running gear under each module promises less rail wear and better running characteristics. The first Avenio trams were used in The Hague, Munich and Doha (Qatar), the corresponding models were produced by HALLING Modelle as high-quality premium models in several editions.
In the meantime, two more cities have been added: Bremen and Nuremberg. Copenhagen has also opted for a representative of the Avenio railcar family for the "Letbane" light rail line currently under construction. The Avenio Bremen is already in service, the models from HALLING Modelle are hardly inferior to the large prototype in terms of ride comfort and technical equipment. They feature an extremely detailed roof and interior design, with true-to-the-original multi-coloured seating and exemplary colouring. Now the first models of the 34 series are available!
The 34s differ in that they are equipped with a point train control (ZUB) and have been approved according to EBO. This extended approval means that the vehicles can later be used on the planned network extension on the route of the Bremen-Thedinghauser-Eisenbahn. Of course, the new models (AVN-B01 and AVN-B02) were also equipped with the necessary yellow Indusi magnets on both power cars!
The elaborate printing of the models was carried out at the customer's request using high-quality and hand-work intensive tampon printing technology, modern UV printing was only used for the implementation of the elaborate roof plan. The model can be individualized with the help of the enclosed number and destination plate decals. The powered models are equipped with an NEM652 interface and LED changeable light. If desired, the digitalisation can be carried out ex works with the popular MX600R from ZIMO.