2021-09-10 13:53:26
News 2021.09 - The Himmelstreppe
The new 2021 edition of the Himmelstreppe!
The new 2021 edition of the Himmelstreppe (Stairway to Heaven), NÖVOG ET1 to ET9 brings back a model that has been out of stock for far too long! For the first time in the history of the model, all nine car numbers are available. The colour scheme has been adapted to the current vehicles and the model technology has been comprehensively revised. In addition to continuous interior lighting, the NEM658 (Plux16) interface not only offers the possibility of simple digitization, even the sound conversion is already prepared!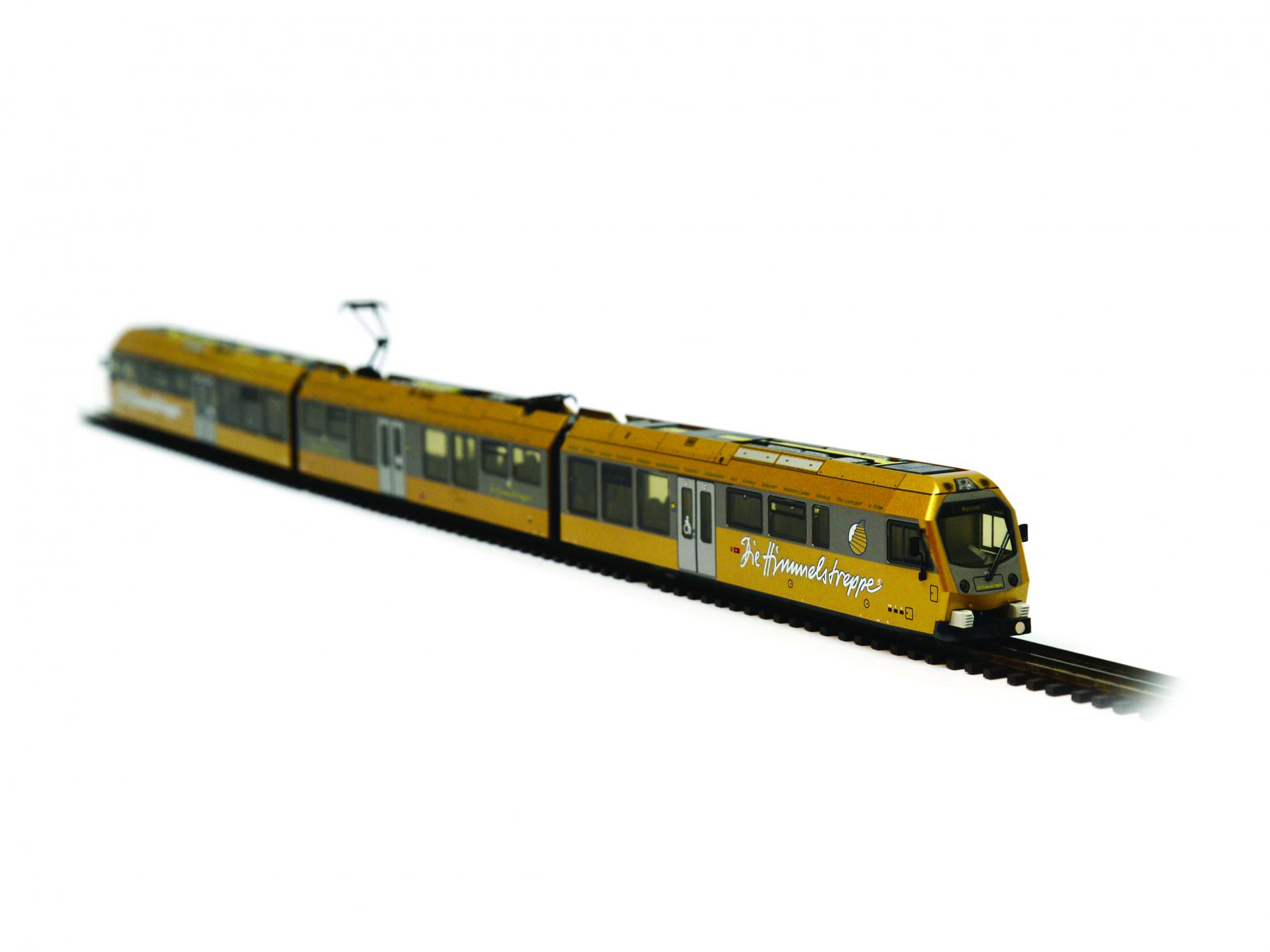 HTP-ET1-M
The multiple units of the Niederösterreichische Verkehrsorganisationsgesellschaft (NÖVOG) called "Himmelstreppe" were built from 2012 to 2013 by Stadler Rail especially for the Mariazellerbahn. The three-part trains are made of aluminium, can be walked on all the way through, and are equipped with an air conditioning system and, thanks to air suspension, offer a very high level of driving comfort.

The intermediate car has two running bogies and carries the two pantographs. The end cars, each with only one motor bogie, are attached to the intermediate car. In one of the end cars there is a handicapped accessible toilet, in the other a multi-purpose compartment with twelve bicycle parking spaces or eleven folding seats.

The railcars can also carry additional cars, in particular two first class panorama cars each, which were designed by Stadler Rail in the same design as the railcars. However, it is not possible to pass between the motor coaches and the panorama coaches.
The sky staircase model has been designed and manufactured entirely in Austria with the greatest care and an extremely high level of detail. All models are now delivered coupled, eliminating the need for time-consuming assembly before the models are put into operation for the first time.

All models of the new edition 2021 are equipped with a new modern circuit board with digital interface and have a red / white light change with triple headlights (LED) and continuous interior lighting that puts the extraordinary and exemplary interior design in the right light. The board offers easily accessible and large soldering pads for easy sound conversion and additional function outputs.

For operation in double traction or in a train formation with the panorama car, we recommend using the extremely strong SKP-HTP magnetic couplings for easy coupling and shunting.